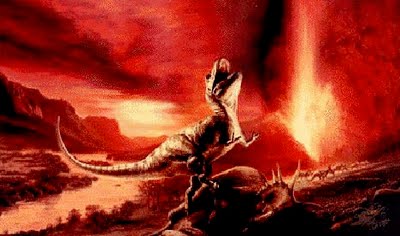 When Peggy Thompson's husband Larry died in 1965, she was in her early 40s, raising 3 small children and running a Scotts Valley nursery school.

If that weren't enough of a burden to carry from day to day for a new widow, she also had a different role to play.

She was the Queen of the Dinosaurs.

Peggy Thompson, who died Dec. 14 at the age of 86 at her home in Scotts Valley, was the owner and operator of one of the more unusual businesses in the extensive history of Santa Cruz County. It was called Lost World, and it was a Scotts Valley tourist attraction that featured 25 to 30 enormous, realistic, life-sized models of various different Species of Dinosaurs, some of which could be seen by drivers — many of whom were definitely startled out-of-towners — on Highway 17.

The entrance to Lost World was on Scotts Valley Drive, and featured a huge animatronic tree that served as the park's entrance, close to a T-rex looking out over the turret of a castle. The park also featured what was formerly known as the Tree Circus, a grove of trees meticulously grafted into the kinds of whimsical shapes never found in nature. The Thompsons bought the Tree Circus from its creator, Axel Erlandson, renaming it the Enchanted Forest, keeping Erlandson as a hired caretaker.