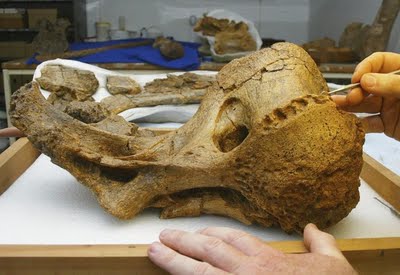 JUST like being on a actual archeological dig, the Queensland Museum's school holiday program I Dig Dinos will give kids the experience of hunting for Dinosaur bones and Discovering Fossils.

Queensland Museum Sought Bank acting director Bernadette McCormack said through its relationship with the community-based Australian Age of Dinosaurs Museum and the Outback Gondwana Foundation, the museum would showcase some amazing fossil finds, including one of Australia's newest Dinosaur Discoveries.

Wintonotitan wattsi, nick-named Clancy, was one of the three new species of dinosaur named for the first time this year after being unearthed close to Winton in the centre of the state.

The program comprise viewing of real dinosaur bones, children's activity zone and talks from paleontologists Dr Scott Hocknull and Dr Alex Cook. And be on the lookout for T-rex junior - a 4m juvenile who will be raiding around the museum.

The program "I Dig Dinos" will be at Queensland Museum South Bank until January 24 from 9.30am-4pm daily.