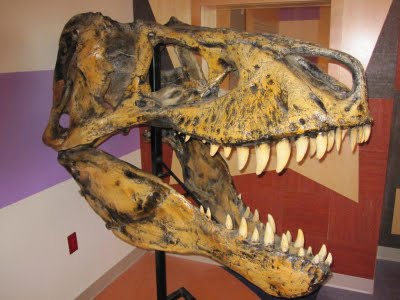 Mesozoica: The Age of Dinosaurs is the former exhibition to
be featured in the Gallery of the Upstate Golisano Children's Hospital. The exhibition features laboratory cast specimens of significant Fossil Discoveries and various dinosaurs. It is on display through March 31 for the benefit of patients and family members and their visitors during their reside in the hospital. Gallery hours are from 8:30 a.m. to 5 p.m. Monday to Friday.

Mesozoica: The Age of Dinosaurs is curated by the International Museum Institute of New York and was recently on display in the entrance hall of the Mulroy Civic Center.

"We're enchanted to make our inaugural exhibit this exciting presentation of these prehistoric creatures and other important discoveries," said Leola Rodgers, associate administrator for Upstate Golisano Children's Hospital.

Rodgers said that the gallery will host exhibitions throughout the year. Upcoming exhibitions may attribute artwork from area schools and colleges.

"We have a wonderful space that permits patients and their families to leave the clinical setting and enjoy a intriguing art exhibit or other kinds of displays."

Upstate Golisano Children's Hospital, which opened in September 2009, features large private patient rooms, with a two-story treehouse enclosing a gallery, solarium, performance space and chapel.