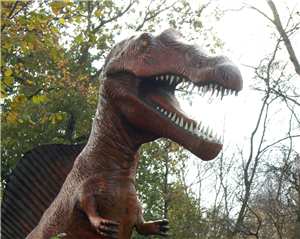 They escaped custody when they appeared before Norwich courts.

Prosecutor Lisa Britton said: They broke into the Ice Age indulgence hut and stole sweets, fizzy drinks and other confectionary to the value of £100. Some of these items were afterward found strewn around the park in plastic bags.

They also smashed the hut as they broke in and some of the dinosaurs had been moved out of place.

Wayne Gray, 26, of Catton Grove highway, Norwich, and Paul Sillis, 18, of Berners Close, Norwich, both admitted two counts of theft after they returned to the park and carried out the matching offence.

Richard Harvey, 22, of Julian highway, Spixworth; Jody Newton, 25, of St Leonards Road, Norwich; and Kirsty Gray, 20, of West Acre Drive, Norwich, every one admitted one count of theft.

The court heard that none had been in serious problem before. In mitigation James Burrows said their behavior had been brainless but not malicious and amounted to tomfoolery.

He added: It seemed like a excellent idea and was fun at the time but it has led to these five young people appearing before the court on some quite grave charges.

Magistrate John Nicholls said that the cases of Wayne Gray and Sillis were provoked by the fact they returned and repeated their offense.

Wayne Gray and Sillis were sentenced to 180 hours amateur work for the community with £105 in compensation and costs. Harvey and Norton were sentenced to 120 hours amateur work with £75 compensation and costs. Kirsty Gray was given a 12 month conditional discharge with recompense and costs of £75.