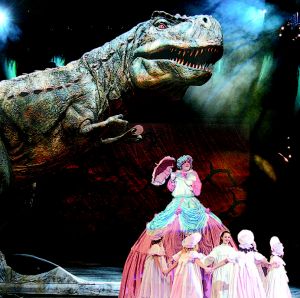 There have been millions of dinosaur sightings worldwide in the past 2 1/2 years, and this weekend they'll be seen wandering through the Mississippi Coast Coliseum in Biloxi.

"Walking With Dinosaurs — The Arena Spectacular" will take viewers back in time. Life-size dinosaurs that breathe ,blink and roar as they fight for dominance will interrelate with each other and the two paleontologists who serve as guides through the 200 million-year History of Dinosaurs on Earth.

Six shows are programmed Friday through Sunday and resident director Lynda Lavin said the educational story line, the stirring music recorded by the Australian Symphony and the sheer Size of the Dinosaurs offer an unforgettable experience for all ages.

"From 3 to 93, we enclose something for you," she said.

Parents should know if their young children would be scare of the dark arena, the lights and the noises made by the dinosaurs, and prepare accordingly.

"The dinosaurs,do get very close to the audience," Lavin said.

Lavin describes the 15 huge dinosaurs as life-size puppets that are part Animatronics, part mechanical and completely realistic in their appearance and the way their heads and tails move.

They have to be, she said, because kids might be familiar with their dinosaurs.
"Walking With Dinosaurs" is based on a BBC television series and brings to modern times the dreadful Tyrannosaurus rex, a baby T. rex and the more calm omnivores.