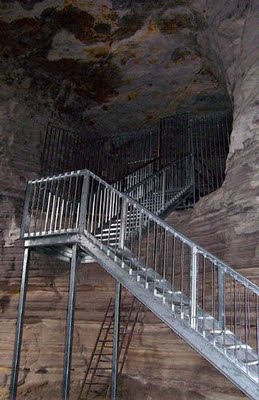 To sight Dinosaur Footprints, all you have to do is look up.

And now a staircase and viewing platform has been constructed at the Fireclay Caverns in Mount Morgan, tourists can get an even better view of the best examples of early Jurassic Dinosaur footprints in existence.

As an integral part of the Mount Morgan Town and Mine tour, run by TMC Tours, the Fireclay Caverns have fascinated locals and visitors similar for years.

But given the height of the ceiling, the infrastructure improvement was required.

Mount Morgan Promotion and Development (MMPAD) president, Mr. John Steinberger said the new platform would complement the fantastic Dinosaur Fossil display at the Mount Morgan Mine Administration building and present a richer, more immersive experience for all.

"The younger ones who are all dinosaur mad are going to like this," Mr. Steinberger said.

Created by Mount Morgan Miners in the late 1800s as they excavated a rich clay deposit for firebricks to employ in the mines furnaces, the Fireclay Caverns are one of the largest man-made caverns in Australia.